Discussion Starter
·
#1
·
Here is the long awaited "How To" for the Crank Case Breather Modification. This modification vents the Crank Case into the AIS. This will only work if you still have the AIS, if you removed it this modification cant be done. I have rode with this modification since I got my 2004 R6, it was done by a race mechanic for me. I just removed it because I needed to do a complete AIS removal because of deceleration popping with my new full Hindle exhaust system. I have had no problems with this modification, it has been done to many bikes by my race mechanic and many other mechanics without any issues. This modification has shown 1-2 hp increase on the dyno, no BS! If you want to know more about this modification,
read these comments.
You will need:
2 - 1/2 inch caps sold at your local auto parts store
2 - hose clamp to secure the cap
Approximately 14 inches of 1/2 inch tubing
1 - tubing connector for 1/2 inch tubing above (may use a piece of pipe)
1. Remove or prop up gas tank
2. Remove the gray AIS hose on the left
3. Place a cap with hose clamp on the outlet
4. Remove the gray hose from both the crank case and the airbox
(mines black)
5. Place a cap and hose clamp on the airbox where you removed
the gray hose from #4 (the pic shows the cap, but no clamp)
6. Connect the piece of (14 inch ) tubing to the crank case, retain
hose clamp from removed hose (I used clear for illustration purposes)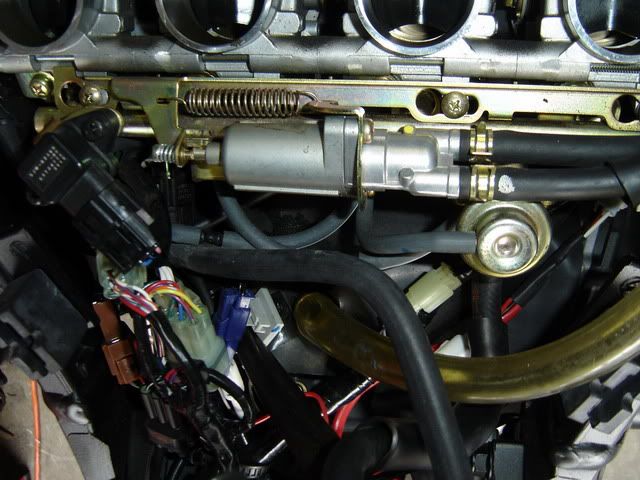 7. Route the tubing from the crank case along the side of the frame
to the gray AIS hose you removed in #2. Cut 1 -2 inches off the gray
AIS hose to remove the molded bend. Install your tubing connector
in the gray AIS hose. Cut the excess tubing you ran from the crank
case and connect the two tubes. (mines gray and clear) (air box
removal isn't necessary, had it off to do something else)
8. Make sure everything is connected and clears when the tank is
down. Bolt down the gas tank and your done! :woot Treat yourself to a :beermug or :beermug :beermug :beermug :thumbup
© Copyright 2005 - R6Messagenet.com - All rights reserved.