Bike 2004 R6
I changed out the stock setup for the 520 conversion D.I.D./Renthal 15/49. Here are pics and some details.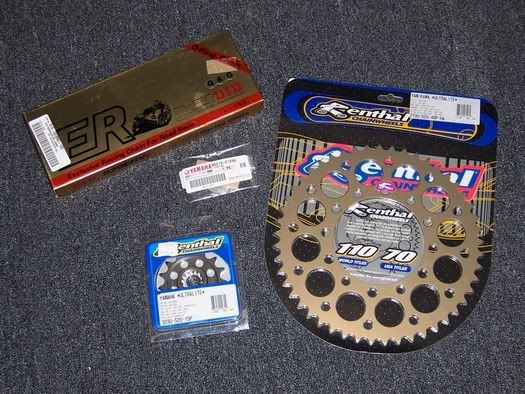 1.) Remove left lower fairing. I do it without taking off the mid fairing because I'm lazy like that. Then remove two bolts that hold on the coolant overflow and cable tie it out of the way.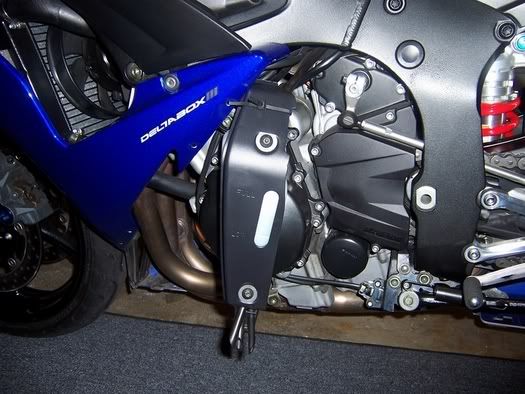 2.) Remove front sprocket cover and work it out and off bike. I did this without removing the shift rod. While you are in this area you need to straighten the large counter shaft lock washer so it's flat. I do this with a flat head screw driver. Leave the nut tight for now.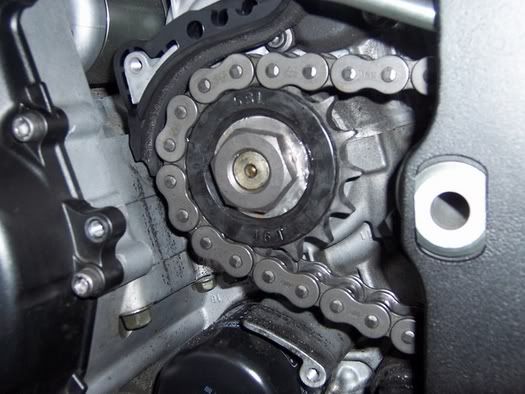 3.) Next I wrapped a thick towel around a metal rod (mine is from a floor jack) and put it between the wheel and swingarm to hold the wheel in place as I loosened the sprocket nut (32mm). You can also try holding the rear brake if you want. That method does not work well at all. Once you loosen the nut just leave it on the bike for now so you can cut the chain..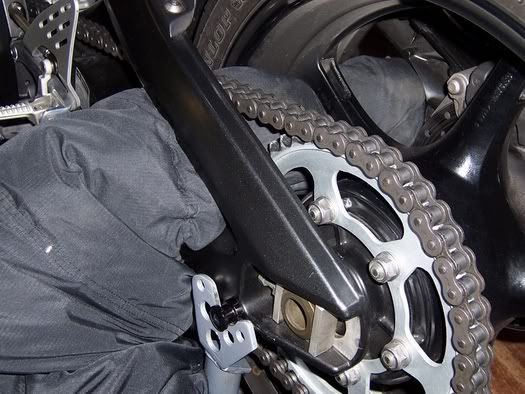 4.) Now it's safe to cut the chain off. I used a dremel and cut off the end of the rivet heads and then popped off the sideplate with a flat head screw driver. Once the link is removed with the bike in nuetral roll the chain off the front sprocket.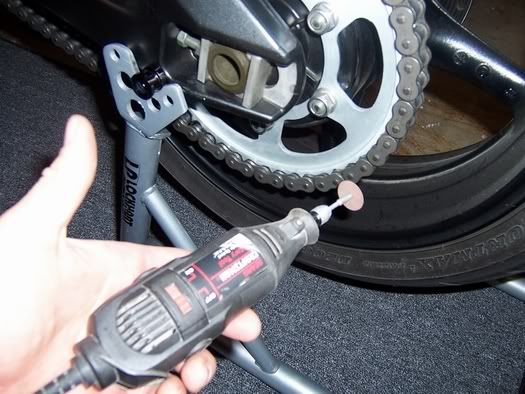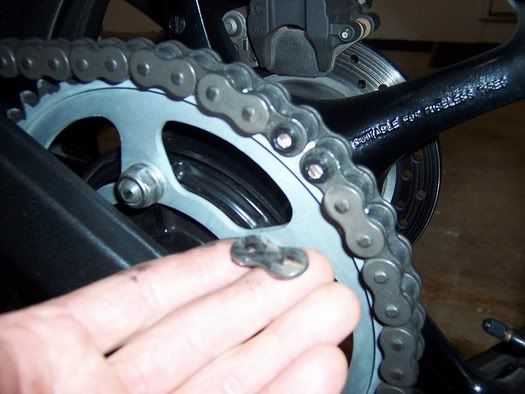 5.) Next remove rear wheel and remove rear sprocket (17mm nuts).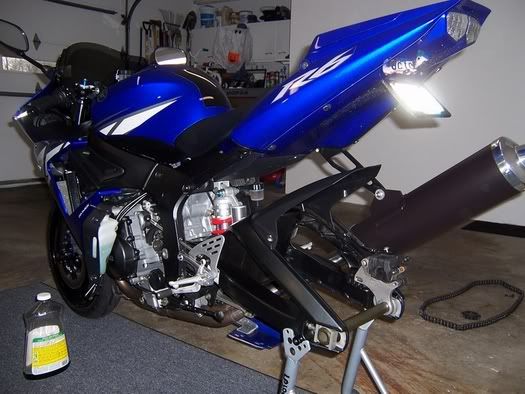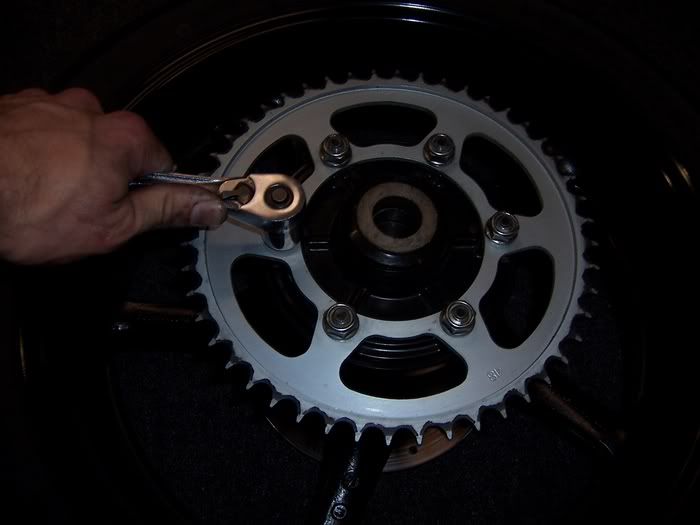 6.) Install new sprocket to wheel tightening with cross pattern. Torque 72ft-lbs USE CAUTION! some have stripped the nuts (read this thread)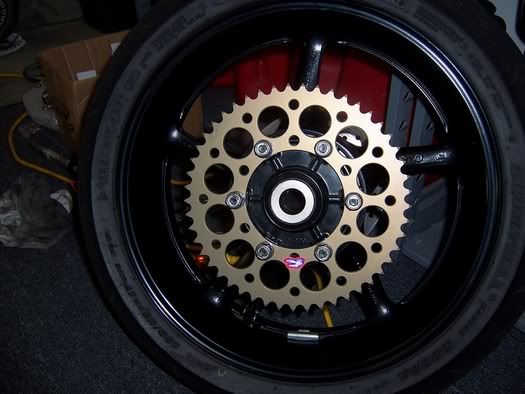 7.) Install rear wheel and now is a good time to take off the front sprocket all ready loose and put on new sprocket hand tight with new lock washer. Now you need to figure out how many links you need for your setup. With the 15/49 I am same as stock length so I had to cut 4 links off a 120 link chain. Double check before you cut to many off! Then run new chain up and around front sprocket and connect it on the rear sprocket.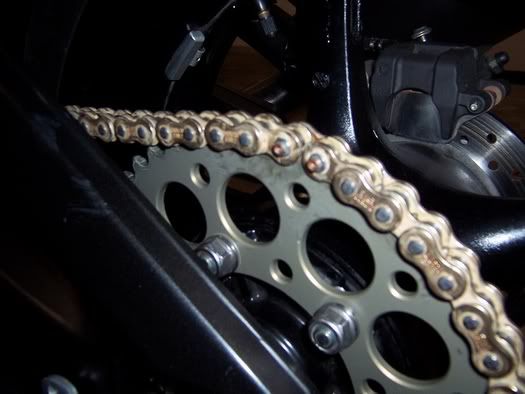 8.) Now with a rivet tool press the side plate onto the chain. Then rivet together. I have seen rivet specs on how big you should press the head( I don't have the specs). You want to press it enough, but don't want to crack or split the rivet. The rivet tool is a must have and lasts forever so it's worth the money.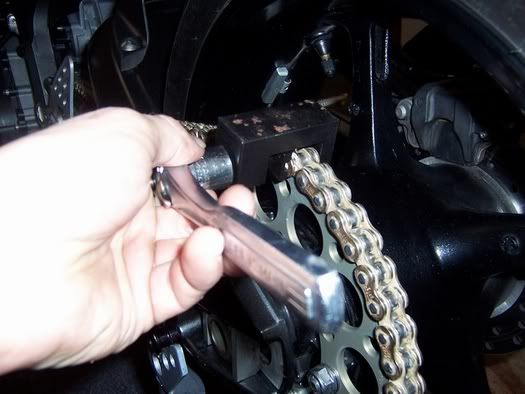 9.) You can now adjust the chain slack and wheel alignment. Next torque up the rear wheel axle nut(80ft-lbs). Then tighten and torque front sprocket nut (65ft-lbs) with wheel wedged reversed from removal. Crimp lock washer with channel locks in two locations.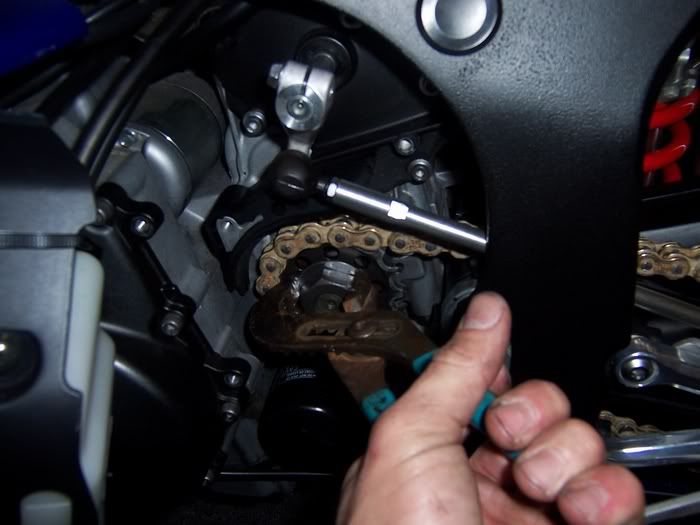 10.) Install cover, coolant overflow and fairing and your done.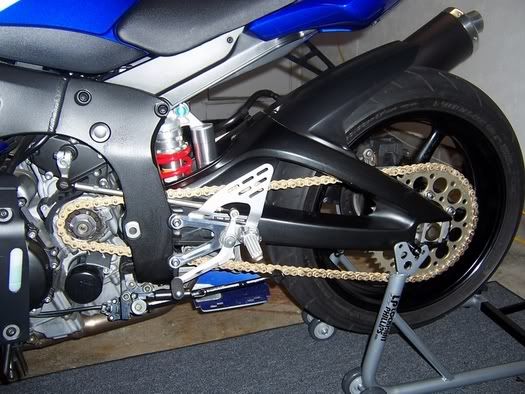 © Copyright 2005 - R6Messagenet.com - All rights reserved.