well I guess its time I finally do a write up. This is a long read but it was even longer to type 1 handed.Embarassed
I guess ill start with the preperation. Ive never been to the track before so this was all new to me. A few days before I went, I planned on switching my tires from metzler M-1's to Michilin Pilot Race tires. When I got home from work I started to instpect the tires I had gotten late the night before. To my suprise I found a rather large puncture in the front tire, and a really huge mushy flat spot on the reat tire. I immedietly decided not to use those tires, and decided the M-1s should be fine. I then flushed my coolant, and replaced with a water/wet water mix. I didnt have any trouble doing this and everything was a breeze.
The day before trackday, Paul (geartex) drove up with his truck and bike. He was going to be spending the night, since he lives down near ACH and didnt want to make the long drive that morning. He didnt start preping his bike yet, since he was to busy during the week. As soon as he arrived we grabbed some panda express, and went back home to start and finish prepping both of our bikes. We first flushed his coolant, than changed his oil. While he was putting his oil filter back on, I pulled my fuses out and was making sure the lights were disconnected properly. Then we did the same to his bike, but when we disconnected the rear brake light, his bike wouldnt start. It seems his bike alarm was some how hooked up to that fuse and wouldnt start when it was taken out. We then started looking at wiring diagrams to find the appropriate switch to disconnect it. Once we did that, everything was in order. After that, we took off our mirrors, and started taping the lights and turn signals up. Then we decided to make a midnight dash to the gas station with no lights to top off our tanks. Much more fun that I anticipated going down the street invisible. After we got that out of the way, we went to albertsons and grabbed food and drinks for the weekend. Once we got back we decided to load the bikes in the truck. He has an older F250 4x4, so the bed was wayyyy high. Made the ramp pretty steep. On top of that he only had 1 canyon dancer, so it made tying the bikes down extremely difficult. once we finally got done with this it was about 1:30am, and bedtime. I set the alarm for 5am and tried to go to sleep. I was so nervous and excited I didnt actually get to sleep until about 2am, then woke up at 4:45am on my own without the alarm.
Waited till 5:00am to wake up Paul, then we packed our food and the rest of our stuff and left to drive up there. We stopped at Mcdonalds, and had some food in the parking lot before we got on the freeway, aswell as got some gas. Once on the freeway the bikes looked uneasy, and I was nervous that they were going to come undone. The old truck had mounts that screwed into the top of the sides of the bed. They were already bending slightly under the stress of the two bikes. Somewhere around vasquez rocks on the 14north, we had to pull off the freeway and re-adjust the bikes, since they started to sag to the middle when the wheels turned a bit after hitting a big bump.
We arrived to Willow Springs right after 7, with the gates open. We parked and unloaded the bikes. Then we were just looking around seeing what was going on. Everyone around us started starting there bikes and some ppl were riding around with no helmets, this made me very confused and didnt know what was going on. Now I realize we forgot the tape at home, and forgot to tape down our speedometer, and tire weights. Luckily another guy next to us wasnt stingy with his duck tape and gave us enough to use. It wasnt until after registration that I saw a familiar face. Earl, from SCS and other forums, I said hi to him, and we had a small chat right before I got my bike teched. After we got our bikes teched we returned to our truck and parked our bikes. We heard an announcemeant for a riders meaning, so we went. It was about this time when we ran into the rest of our friends from SCS. During the Riders meaning they explained all the rules of the track, and let us know that Ken was going to be taking pictures, and another gentleman was going to be riding with video cameras mounted to his bike, aswell as Catalyst Reaction suspension tuning was there to set up your suspension for a fee. Then they had a drawing for a lucky winner to get a free set up. What do you know, I won. I go and claim my ticket that is valid for 1 free suspension set up. I was anxious to use this after the first session so I could feel a before and after. We go back to our bikes and start to suite up.
It felt like 5 minutes before we were called to the track to start our session. For first timers we were allowed 2 laps to see the track under extremely slow riding. When we did this I got very nervious, especially for turns 3, 4, 5, 6 since they were on a what seemed to be, very steep hill. We went back into the hotpit lane, and waited to go. At this point it seemed like hours... my eyes were burning from the exhaust from the bike in front of me, then we were sent off 2 at a time. Once on the track I told myself, not to push anything, just cruise. I have 2 days to ride, theres no need to do anything stupid in the first lap. So we went around constnatly on the brakes from the ppl in front of me. It felt as bad as the 405 during rush hour. nothing but traffic everywhere. Bam, out of nowhere, someone passes me... im thinking, why pass, theres just more ppl everywhere... things started to get more spread out in the next lap. Going a little faster, still only using brakes to slow myself from rear ending riders in front of me. Then I notice a red flag, I slow to a stop. Look around, see a downed rider near T3. I think to myself, ahh shit session is already over... we go back to the hotpit, where they tell us, well go back out again. This time, im towards the front of the pack. They let us out, I have alot more freedom now. I have a much faster and comfortable pace with less traffic. I pass a couple ppl, start going much faster now. Now as I catch up to other riders, I begin to feel more confident, decide to pass a few. I do more and more laps. Start getting my knee down in T3. Next lap I touch down in T3, and T4. Next couple laps, I touch down in T1, T2, T3, and T4.. then I have to slam on the brakes to not rear end a few ppl at T5. I am stuck behind these guys until I pass around T8. I see a big crowd at the end of the straight so I slow down... now im stuck behind more ppl, see some gravel at the end of T2, no sweat, get thru it ok. Take T3 not fast, but not slow, drag a little bit, when all of the sudden the rear brakes loose... I dont panic, I keep on the throttle, slight counter steer... im staying with it, gonna get thru this, when the rear catches, and I get bad headshake. I grip the handle bars with all my might, trying to tame this high speed wobble. I think I have it back, when I look up and see my death waiting for me, in the form of a hill. The second I hit the dirt I lost it. I just remember behind inside a washing machine, seeing everything around me spinning. when I finally came to a stop, I can feel my boots on the hard asphault surface, and my back is in the rock filled dirt. I try to figure out what just happened, but my mind is not responding. Immedietly another rider pulls up next to me and looks down at me. He asks if I am ok. I respond, with a yes. He tells me, you better get up or else they will call an ambulance, and they will red flag us. At this point I dont want to screw up anyones ride, so I try to get up, then my ankle collapses, it cant hold any weight. I fall back down to my back. before I could tell him I cant get up, the ambulance drives up. They start asking me questions... what day it is, what my name is, I answer them all correct. They ask me waht hurts, I let them know my left shoulder, and left ankle. I remember them saying to each other "well I dont see any bones sticking out so thats good". I begin to panic. They take off my helmet, and ask me if I can sit up. They give me a hand and I do so. Now my vision gets really blurry, and the ringing in my ears just turned up all the way, so everything they say is muffled. I think im going to throw up, but I hold it in. They take off my boot and look at my foot. Then they give me a hand and get me into the ambulance. They asked me where I was pitted, and took me there. Before I got out they took off my jacket, and wanted to get another look at my shoulder. They cut my sleeve in half and observed it. They informed me that I needed to go to teh hospitol ASAP,but I didnt want an ambulance bill, so I told them I would find an alternative ride. They then bandaged some ice packs around my ankle and shoulder.
My bike was already waiting for me, when I got out of the ambulance. I hopped up in the back of the truck bed and starting telling my story to my friends. The guy that was so kind to lend me his duck tape came by and offered me a variaty of differnet colored pills. I dont know what they were, but they helped with the pain momentarily. I didnt watn to drag any of the guys away from the trackday, so I decided to try and call a friend with a truck, to come and take me to the hospitol and get my truck home for me. First person to come to mind was Jimmy, so I give him a ring. Luck has it he is at home, but no truck. So he came up with the genius idea to give me a ride to the hospitol while Paul (geartex) took my bike home. While Jimmy was on his way to get me, Paul went out in the next session. I take some video with my camera, before the pain was too much to bear, and put the camera away. Then I notice there was another accident in T3. Everyone comes in, but I notice Paul (geartex) isnt anywhere to be found. Then I see the towtruck comming towards me. and notice Pauls bike was in the back. I give Paul a little shit for crashing and couldnt believe he did the same thing on the same turn. Lucky for him, he dindt try to save it, and just slid across the pavement rather than crash in the dirt. Only damage to his bike was the left rearset. I offered him my rearset, so he could finish the day. That was about when Jimmy showed up to save the day. I was so excited to go home in such a luxurious car. He then took me to the ER and hung out with me for 5 hours while I got 3 seperate sets of x-rays and was told that I was broken. Final tally I think was a sprained ankle, seperated shoulder, cracked ribs, and a few random torn muscles.
After talking to a few people about what happened, they suggested my crash was probly due to too high of tire pressure, and im sure they are right since I didnt check my tire pressure before I went, nor do I know what the correct track pressure would be.
here was a picture before I crashed. It was either T2, or T4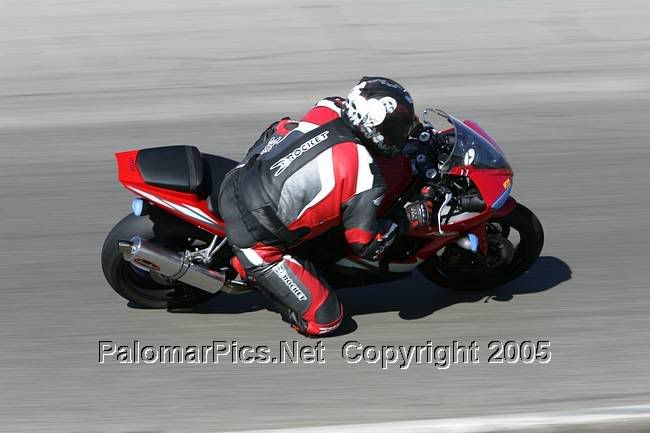 a pic after the crash