Join Date: Feb 2006
Posts: 1,488
Feedback Score: 1 reviews
Quote:
Originally Posted by jself24
I like to put painters tape down first and then colored duct tape on top of that. You get the color of the duct tape and the no mess cleanup of the painters tape
werd + uno
only real godd shot of my headlights, dont mind my bike off the track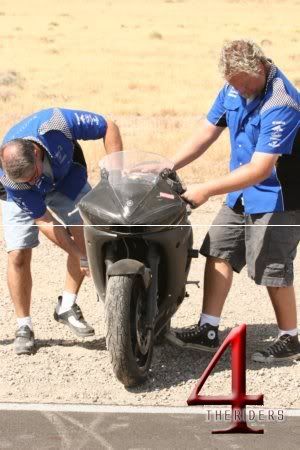 One inportant thing I didn't see posted to bring is
YOURSELF
and don't forget the bike key
---
2010 Toyota Tundra TRD Rock Warrior
2009 YAMAHA R1 Raven
2008 YAMAHA raptor 250
2005 YAMAHA R6 Raven
2004 YAMAHA WR250F plated
2001 Trek 7000 MB

Every Day brings something new, Be prepared.
Sterilize Trix!!!
Join Date: Sep 2004
Posts: 1,871
Feedback Score: 1 reviews
Another Very important item to bring to the track is MONEY!!!!
Join Date: Jul 2006
Posts: 99
Feedback Score: 0 reviews
It's probably been mentioned before but a radio for the folks that come along but don't ride. Or an Ipod with some speakers. Yesterday I brought the speakers but forgot about the batteries...damn the creation of AAA lol.
Join Date: Feb 2007
Posts: 978
Feedback Score: 3 reviews
Sorry... I haven't read the whole thing... but just this past weekend I tried two things....
1- electrolyte replacment mixes (available at any bicycle shop)
2 - rags kept in a cooler of cold water/ice

The electrolyte replacment worked awesome for preventing fatigue from dehydration and really helped to replinish salts.
The rags were perfect for putting on your head and over your shoulders when you get off the track.
It really helps cool you quickly!
Keep it in its own dedicated cooler b/c it gets really salty from all the sweat collected off your body.
Join Date: May 2006
Posts: 92
Feedback Score: 0 reviews
Quote:
you know whats crazy...when i see those nuts that ride down to the track days. i just don't understand how some people can do that its seroiusly nutsi
I saw guy behind us after driving for 2 hours going to a track day.. we thought at the beginning this guy was just going somwhere and we saw him at the track... sadly though this guy ate it big time on the fast turn at Bottonwillow.... his bike was pretty much a done deal.. you can't even tell if it still a bike.. he met up with his buddy at the track.. but since he ride by him self his buddies just had him wait out side the gate to have his real buddy pick him up... that last time i saw him he was just sitting out side the track by the gate.... waiting
New to the Forum and to the R6. Anyone can tell me what fuses to pull for the headlights? Bought the bike used, no manual and only one key...
free bump for a good thread
---
Previously: 07R6R Charcoal Silver, 05 R6 - Team Yamaha Blue, 04 SV650

Currently: 08 R6R "Black Mamba"

Performance Mods:
LEO VINCE full system - SS headers + Ti can w/ CF End cap, Bazzaz Z-fi Air/Fuel controller, Bazzaz Z-AFM fuel mapper, BMC Street air filter, A&R Motorsports Smog block off plates, Gilles Xtreme Racing levers - Black, Gilles Tooling Rearsets - Black, Puig Z-Racing Dark smoke windscreen, Accumen DG8 gear indicator, Scotts Steering Damper, Exup Cables eliminated
Junior Member
Join Date: May 2013
Posts: 2
Feedback Score: 0 reviews
I am new to bike racing, but have done autocross, drag cracing and scca. In total what you need to bring to the track should weigh a minimum of the weight of your track ride. For drag racing and scca my crew and I would carry close to 3000lbs or gear (tires, fuel, lubes, canopy, flooring, an engine, clutches, batteries, TOOLS, drinks, BEER, for after, etc.
---
"Only the Dead have seen the end of war." Plato
Member of:
2nd Calvary Regiment Association, Gold Spur Holder, American Legion, NRA, VFW.
Currently Active Users Viewing This Thread: 1

(0 members and 1 guests)
Posting Rules

You may not post new threads

You may not post replies

You may not post attachments

You may not edit your posts

---

HTML code is On

---