2008 R6 (The start of mods)
---
Well after owning an 06 R6 and since it got stolen I decided to go back on another one cuz this bike is just to sexy...
I just got a few weeks ago a brand new 08 which I have removed the rear fender kit (what a bitach compared to the 06) but now I need something to cover the whole it left (I had a hotbuddies on my 06).
I'm also looking for frame sliders ( I used to have the LPs Carbon ones on my 06) but no one sales any for 08s???
I have a GYTR carbon slip on on the way.
Damn, where was your old bike stolen? That sucks. That is my biggest fear is to come back to my bike and it not be there.
---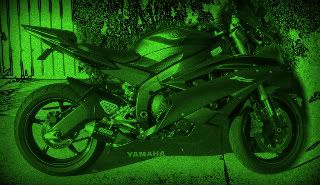 '07 Charcoal R6
GYT-R cf slip on, GYT-R seat cowl, flush mounts, fender eliminator,
integrated tail light, puig light smoke db, 6000k HID, LED center light
Coming soon: GPR v4 damper, Pazzo or ASV levers
---
THATS SHUCKS MAN, your bike got stolen !!!! THIS IS also one Of my biggest Fear. especially when i go to work. FUCK !!! man so many Irresposible FUCKER that steal bikes. it's not like everyone get who buy bike with cash upfront, Like me i have to do 0 downpayment, and Finance it, i have to work hard DAy and night for my bikes, and yet SOME ASSHOLES wants to steal it. really pisses me off, i wish there are laws saying that Stealing will be punished by Death sentence, or chop their hands off
---
PrOuD oWnEr Of YaMaHa R6
It was stolen at work. So much for LoJack (Biggest Scam on earth)

Guys thanks for the support but it ain't coming back so I moved on. I just pray for the soul I catch trying something on my new baby. I PRAY!!!

Anywyas anyone can help me with the LP frame sliders or the cover for the whole I left on the rear? Thanks.
Junior Member
Join Date: Mar 2008
Posts: 25
Feedback Score: 0 reviews
be careful when buying parts. Look up installation manuals just make sure it fits your bike. I have rearsets and levers on my bike. The levers were from an 06. The rearsets were suppose to be for 06-08. The rear sets i have have are pp tuning and there is a bracket to relocate the brake reservoir, but the bracket works with the 06 brake reservoir which is attacted to the subframe, the 08 reservoir isn't attached to the subframe so the bracked turned out to be too short. Also on hte shifter side the rod didn't fit through the fairing, turns out that was a little different i had to some dremel. The good thing is that i contacted pp tuning about this and they are sending me updated parts. Basically they updated the parts but haven't updated their website or suppliers. So i would be very mindfull of this when buying 06-07 parts that state they are for 06-08.

I also i couldn't find a good "no cut" option for the 08. I actually bought some for 06-08 and guess what....the don't fit. Once again 06-07 is just enough different than 08 so that the 06-07 no cuts don't fit. So i just went with wood craft cuts. I only cut the left side. I probably should have cut the right side cause it rubs a little, but i figure where it rubs it will scratch the paint but i could cut it also which is the same kind of disfigurement. Also if i go doits not like its gonna crack it, its just nug. Anyway thats my take

Also does anyone know if 06-08 use the same shocks mounting? I wnat to get an ohlins shock but the only used ones are from an 06 or 07.
Member
Join Date: Apr 2008
Location: Long Island
Posts: 99
Feedback Score: 0 reviews
COngrats on the new bike... I am also interested in the frame sliders. I bought a pair of no-cut sliders on ebay and thye just look like they will cause more problems if I drop the bike then using sliders without little aluminum brackets... I started buying mods before I even reached 200 miles and y can see my sig below for a list.

Get some pics up when you can, I already got a few floating around but can post them up again if requested.
---
2008 R6 Yellow/Black - Puig dark smoke windshield, Lite Eyes Dual 6000K HID kit, LED flush mount turn signals, new signal relay, license plate relocation bracket, CustomDynamics LED license plate screws, CustomDynamics tailight integrator, speedohealer V4, CF R6 tank pad, power commander III, full race leo vince exhaust CF.
Well I got some mods on the bike (currently @ 300 miles)
Rear peg signal mod (powder coated black), puig double bubble light smoked screen, AVS gold short levers, flushed front signals, stomp grip tank pads, HID kit (I still have to install, I want a 3000K bulb but I have both 6000K). The GYTR is no longer on the way so I'm considering a full carbon Leo Vince. I will post some pics soon.
---
Where there is a will, there is a way!
Junior Member
Join Date: Mar 2008
Posts: 7
Feedback Score: 0 reviews
Got any pics of the rear peg signals? I've been thinking about doing the same.

Where did you get them done?
R6Messagenet Guest
Join Date: Apr 2008
Posts: 8
Feedback Score: 0 reviews
have an '08 myself, looking at getting sliders, I have been reading that motovation sliders are pricy but good....
diablo what did you end up going with for your fender eliminator kit? and can you possibly post some pics so we can all see the new look?
---
2008 Raven R6
-all stock still
Currently Active Users Viewing This Thread: 1

(0 members and 1 guests)
Posting Rules

You may not post new threads

You may not post replies

You may not post attachments

You may not edit your posts

---

HTML code is Off

---