How to re-key a new seat lock assembly to use your old key.
---
Hi guys (and girls), my name is Jeff and this is my first How-To guide as well as my first post. I hope this is useful information that can help you guys save some money as well as understand more about your beloved babies, err, bikes.
This is a guide to specifically rekey the passenger compartment lock if yours breaks. and you need to replace it but use the same key as your ignition and gas cap. After reading this guide though, I am hoping that you will be able to apply this knowledge to the other locks on your bike (ignition and gas tank) and possibly squeeze your way out of buying an entire lock set. I have not tried this with any other lock on the bike since i just haven't had the need but I'm sure if you can somehow get the lock itself out, you can probably take it apart and figure it out.
This was done with the seat lock from a 2003 R6.
Disclaimer:
This is not a thread to teach you how to pick locks or anything like that. While the information contained does teach you how to take apart the lock and I guess gives a bit of insight that can be translated to help an person understand how to pick locks, it does no more to "teach lock picking" than teaching someone how to replace their ignition key mechanism "teaches" motorcycle theft.
I was riding and got PWNED by the street. This is what happened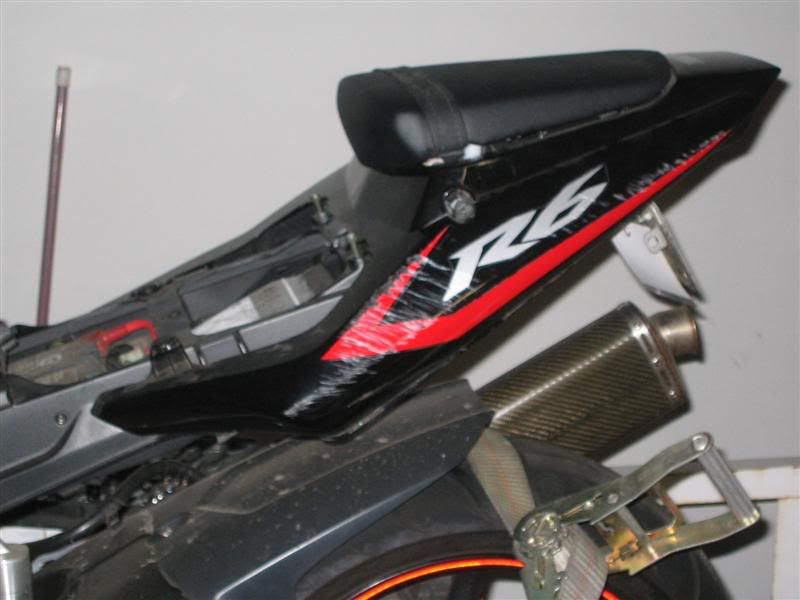 If you look at the lock in the tailpiece/rear fairing/side cover whatever it's called thing, you'll notice that the lock mechanism is crooked and not facing straight out like it should. I couldn't get the key in so I thought I could open the compartment by squirming around under the plastic after taking off the main rider seat. I was wrong. I ended up just sticking a screwdriver in the lock (not far enough to jam it or jack it up) and forcing it back up into the regular position. Luckily, the lock was still somewhat attached so I could open up the compartment with the key. After I took off the plastics, this is what the lock assembly looked like: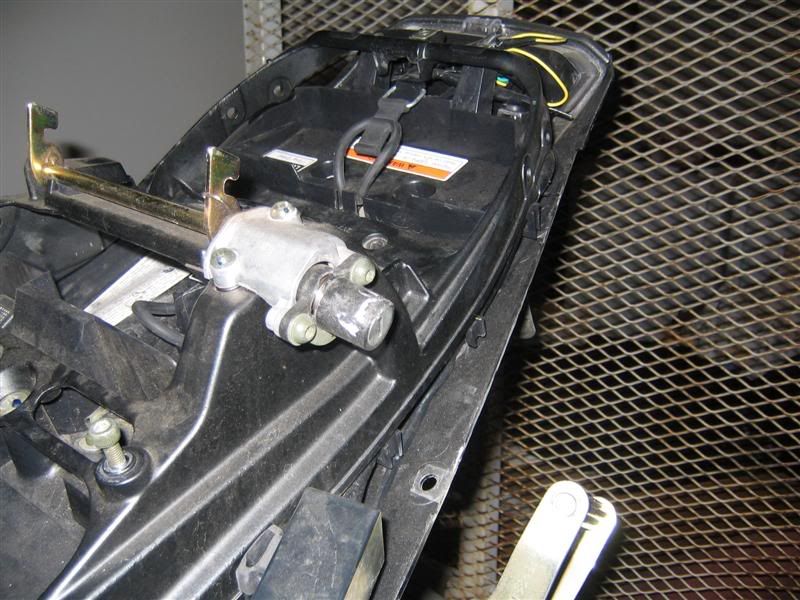 As you can see, the plastic lock thing is cracked and that just won't do.
Later on, I actually had to break the lock off, pull it out, and then open the compartment manually by pushing the lever for it since it was starting to not work.
Tools required:
Screwdriver
Old lock assembly
New lock assembly
Old Key
Brain with ample intuition
Here is the lock broken away (thats why the plastic used to mount it is all gone):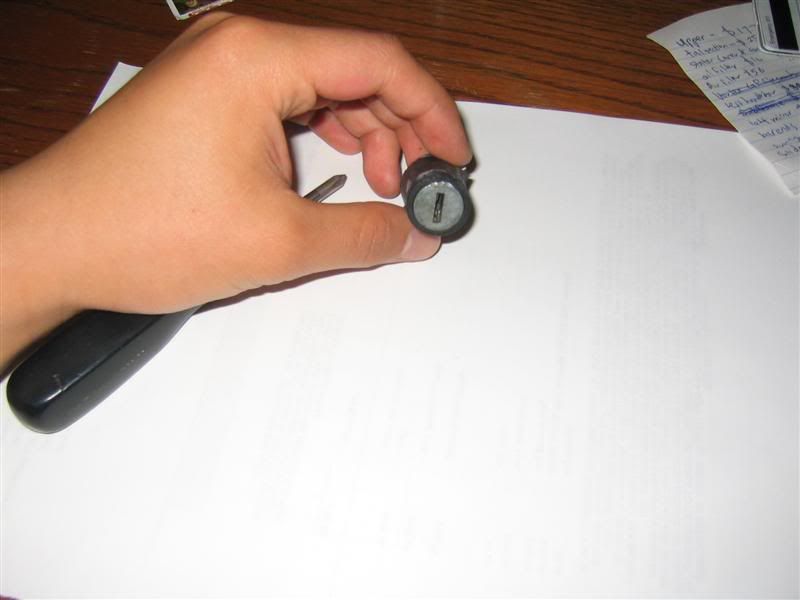 The back of the lock will look like this. Take off the screws and watch out for the spring (which you can kinda see). This is the spring that turns the key back into the locked position. Remember how you take it apart.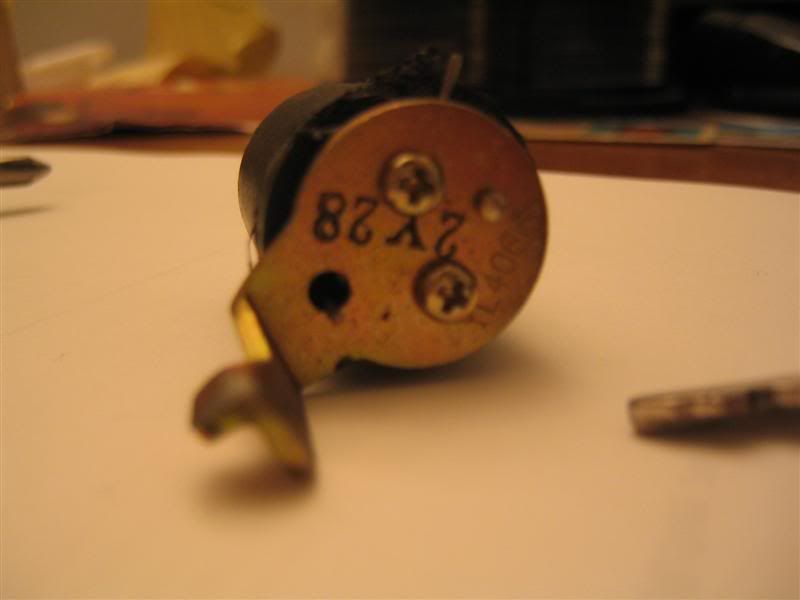 When you take the center thing from the sleeve, watch out for the gold things which are spring loaded. I doubt they will shoot out but it doesn't hurt to be safe.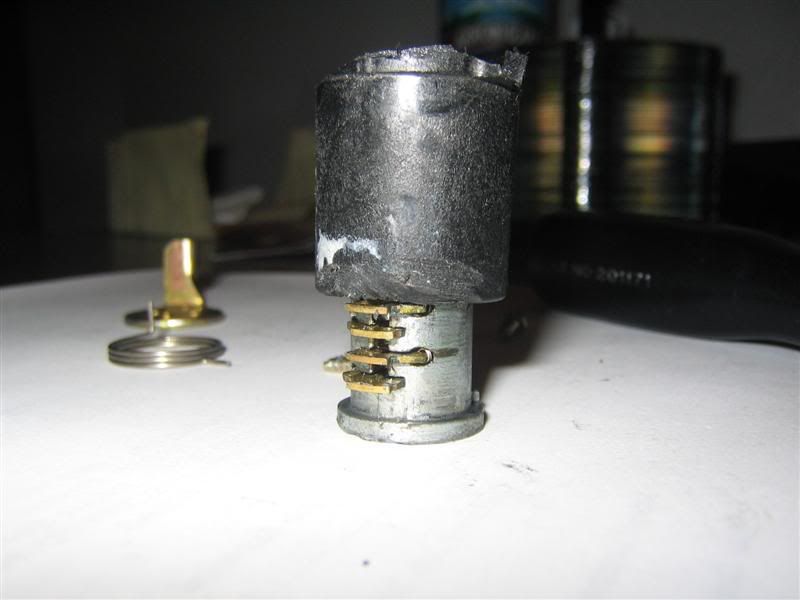 When you take it out you can see all the little parts of the lock. This lock in particular is a wafer tumbler type of lock. If you take out the little wafers, you will see that some are different.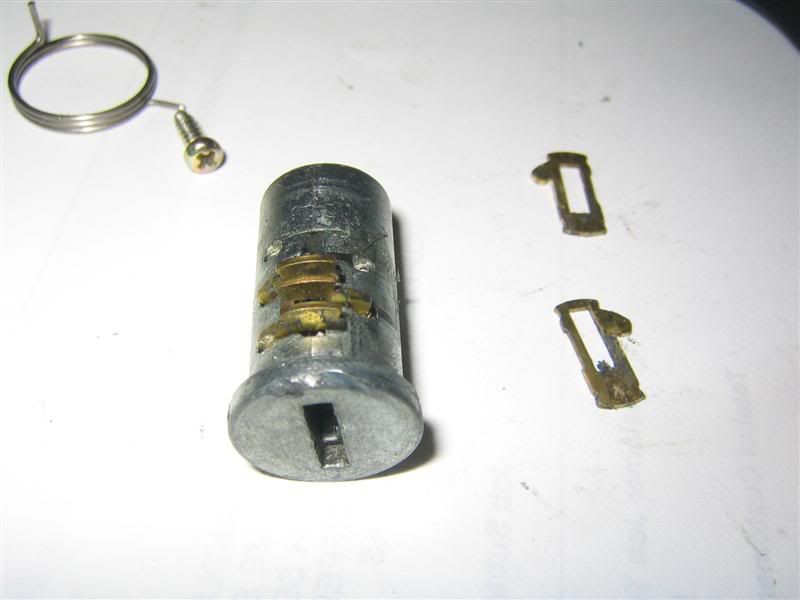 Take these "wafers" out in order and remember where they belong. The order of them is a sort of combination regarding the grooves in the key.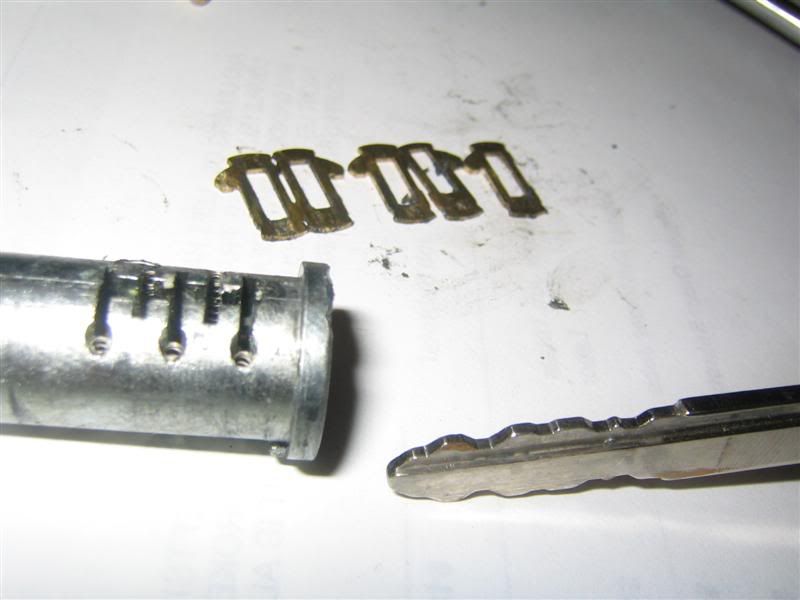 Here is where you transplant these wafers, in order, into the new lock assembly you have bought.
Putting the key in the lock, you may better understand the way it works (or you can just look wafer tumbler locks in Google). Without all the wafers, you can see where the grooves in the key actually affect the pattern of wafers. When you put the key in, the wafers become flush with the center tube and can freely spin in the plastic sleeve around it.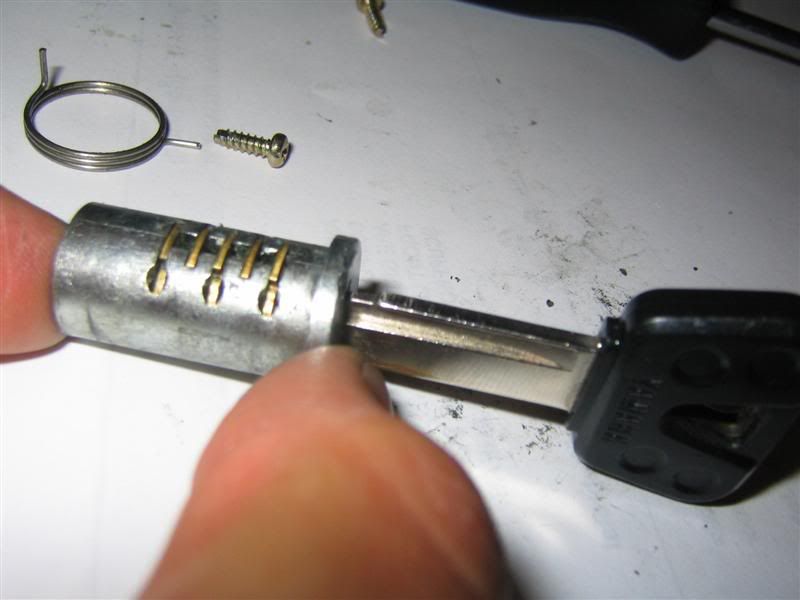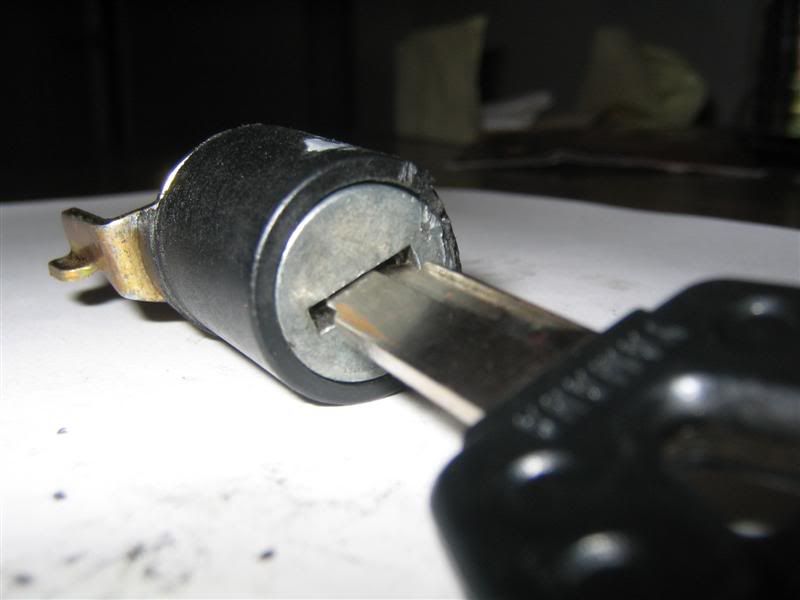 Twistable!
If your lock isn't as scuffed as mine or if you don't mind having a slightly scuffed lock, you can leave all the wafers in and just transplant that last thing right into the new lock assembly. If you don't have the old lock anymore (I don't know how it would be missing) then this becomes much more complicated. I'm guessing there is a set of wafer heights that correspond to the groove heights in the key. You could figure out the system of wafer shape vs groove height on the key but that may be complicated. A lock may or may not have the right numbers of different wafers that can be re-arranged to work with an old key. There is no rule to what you do, just think a little bit and you'll probably figure it out. It's really an easy thing to do. You can save from 30 to 300 dollars on this instead of taking it to a locksmith to be rekeyed or buying someone elses complete lock set.
I ordered the OEM seat lock assembly from a website for about $23 dollars. The part number for it (2003 r6) is:
5SL-W2470-00-00
There are many options and these methods can probably be applied to the other locks but that will be up to you.
You may have a problem if you don't have the old lock assembly anymore since the new one may not have the correct number of unique wafers to match the pattern of your old motorcycle. In this case you will have to find the right size wafers. I suppose if you could get your hands on any discarded locks, you can collect the wafers and hope that you can match them with the key you have.
I hope someone understood this.
***EDIT***
I found a place to buy cheaper parts.
Mr. Cycles
has the seat lock assembly for much less (around $18 I think, and the handlebar is only around $62). Good luck all.
***EDIT #2***
I noticed that on the new seat lock assembly, the wafers don't just come out. You may have to force them out from the bottom. just *CAREFULLY* force them out from the bottom with a screwdriver or something else flat. ok. good day.
© Copyright 2005 - R6Messagenet.com - All rights reserved.
---
Last edited by wutangclams; 07-04-2005 at

05:02 PM

.
Thanks for posting this up. Mine broke off in my wreck, but I lost the lock, so I've got to get a new one.

Thanks for the part #.
---
Yamaha is the official sport bike of NESBA.
Click Here
for special promotions exclusively for NESBA members and new Yamaha buyers.
Excellent how to. You are fine with the lock picking part. Since you don't teach any farther than direct replacement there is no issue.

In fact, this is a VERY useful addition to the how-to's!! Thanks so many will benefit from this.
Member
Join Date: May 2004
Location: North MD
Posts: 5,078
Feedback Score: 6 reviews
Nice how to.
I remember when I needed to do this so I got another lock and.......my key still opened it
I don't know how but my key opened the lock that came from another bike.
BUT, I tried it with another R6 key and it didn't work
---
Senior Member
Join Date: May 2004
Location: Arlington, TX
Posts: 246
Feedback Score: 0 reviews
from what website did you order the part? i have to replace my ignition due to a prospective thief and dont want two keys, but would like to avoid getting an entire lockset if possible. maybe i can get it and figure out how to re-key the ignition using this.

thanks.
I ordered my seat lock assembly from
Cycle-Parts.Com
for $22.84 just yesterday. The problem is, they have a $100 minimum purchase. I ordered a left handlebar that got owned by the asphalt $82.49) which brought the total up over a hundred. Shipping was $9.95 through UPS and there was no tax since they're in Gainesville, Florida and I'm in California. I'm not sure if it was the cheapest place but it was cheaper than ordering through a store (Bert's charges $28.50 for it and over a hundred for the handlebar and the lock wasn't even in stock).
Good luck with the ignition and please post up your success story. I'm curious to see how the ignition lock can be modified as well.
It would be cool if you had like multiple bikes work with the same key so you can just carry one key (if you're baller status).
Also, you're welcome. I thought this would be a good addition to the myriad posts I've already read. Just wanted to contribute to the community. I know I've already saved over a hundred dollars from these How-To's alone.
Senior Member
Join Date: May 2004
Location: Arlington, TX
Posts: 246
Feedback Score: 0 reviews
cool deal, im gonna do that as soon as i can, problem is that i just started a new job and wont get paid for a few weeks and im broke as hell right now, but at the beginning of next month im gonna go to work on this, if i get something accomplished i'll definately post up.
oh yeah and
helluva first post too
I found another place with cheaper parts. Much cheaper.
Mr. Cycles
They have the lock for $18.51. the handlebar is $62.35 from there.
I wish I checked this place sooner. would've saved like 25 bucks. I dont' know how much shipping is though. They are located in North Carolina so no tax if you're elsewhere.
The broccoli must Die!
very sexy
great how to
---
Formerly A4R6
Join Date: Sep 2004
Location: SoCal
Posts: 130
Feedback Score: 2 reviews
Awesome how-to. I'm sure this will come in handy for many people.
Currently Active Users Viewing This Thread: 1

(0 members and 1 guests)
Posting Rules

You may not post new threads

You may not post replies

You may not post attachments

You may not edit your posts

---

HTML code is On

---