MotoGP Ti Suit, MotoGP Kangaroo Suit, AGV Suit, Teknic Pants
---
I have a few suits that I am selling. Please see all the pictures and ask any questions before hand. These are listed on multiple sites so I will do my best to get back to you as quickly as possible. For an immediate resposnse, please use my email address.
I will do my best to assist you in your purchase. If you are purchasing a suit that will require repairs, I will also ship it directly to Lizzy Leather or a leather repair person of your choice to save you on the shipping costs if you would like.
I accept Paypal and my email is
eric@teamsampsonracing.com
if you have any questions.
I also have a bunch of other stuff lying around as us racers and trackday people accumulate over the years so if you need something just ask and I'll let you know.
-Eric
MotoGP Ti Suit, leather, Size 46, $250
Suit has very minor rash, needs small repairs done to a seam and 2 very small holes in rear. Very small hole inside knee area which is a common spot due to getting caught on footpegs that I probably wouldn't even bother fixing but its up to you. I had one minor lowside wearing this suit and ended up on some rough gravel where it dented the shoulder and knee, which can probably be pushed out. I didn't try. The dents have no effect on the suit or its fitment. Very minimal repairs required to make it an excellent suit. Comes with a small amount of free paint on the knee courtesy of the wall at daytona. The white stuff is just glue from duct tape that was covering the holes that need to be repaired.
MotoGP Kangaroo Suit, Size 48, $175
This is an excellent suit and I am considering getting another as a back up for rain days. I took several spills in this suit and it held up fantastically and should continue to for a long time to come. Only two seams really need to be repaired on the butt which are currently covered in duct tape. They just need to be re-stitched. The shoulders have two very minor spots that I wouldn't even bother with. The suit is not cosmetically perfect by any stretch but it will more than do the job for the average trackday-goer. I'd keep it but I lost a few pounds and its too big for me now.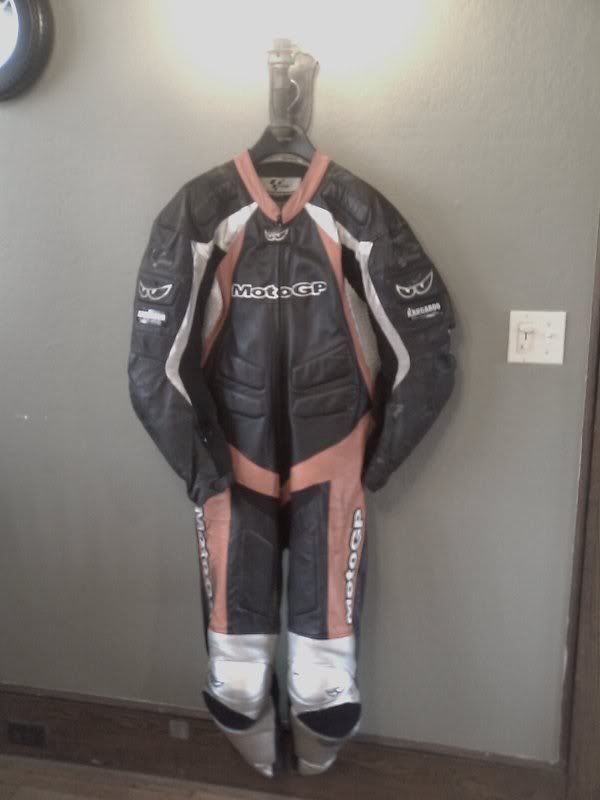 AGV Sport Suit, Size 48, $275
This suit is in excellent condition and was only used on the street so it is broken in and ready to go. This suit has never been down and the pucks are new and unscathed as well. Simply put it on and go.
Teknic Chicane Leather Sport Pant, Size 34 Waist, NEW, $150
These are the pants that go to a teknic jacket or another jacket that has a 360 degree zipper starting from the left side ending on the right. f you are intending to zip your jacket to it, make sure the zipper runs in the same direction.
These pants retail new for $200 and are brand new with no scuffs on the knee pucks.
---
NE/Mid-Atlantic CCS/LRRS/ASRA Expert #973
www.myspace.com/roadracerx
2006 LRRS Amatuer Champion
MW SuperSport, MW Superbike, MW Grand Prix, HW SuperSport, HW Superbike, UNL SuperSport, UNL Superbike